| Last Week | Peoplenomics | Library | Independence Journal |
| Site Disclaimer | Publisher Note | Elliott Wave | Link to our mirror site | Feeds updated daily
---
Gold? Simple Dynamics, Watson...
A a few readers were busy pulling their hair out on Friday as the price of gold dropped. "Woe is me," was the typical rejoinder. "What should we do?" I was asked.
Are you nuts? Let's look at this really simple-like. The decline of $19 on Friday is hardly a reason to panic, in my view. Remember that the price of anything on a particular day only matters if you are planning to sell that day. Otherwise, it's a mere amusement and something to distract monkey mind.
Now, let's do some "dollar homework" shall we? First, I don't look at dollar "indices". I look at real simple to comprehend exchange rates and either do my own math, or borrow whatever chart is convenient. Like this one: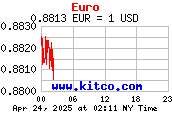 Now looking at recent lows of the dollar, we seem to remember it dropped below EU 0.750 to the dollar a few days back. But now, thats to economic stories (and they are that) a dollar is worth EU 0.7688. We divide the latter by the former and discover that the currency move was: (1.0250666666666666666666666666667) or a shade over 2 -1/2 percent.
Now let's flip over to gold which was recently as high as $640'ish. And now let's knock off 2-1/2 percent, OK? That would put gold around $624.34. So, I figure $15.65 of the gold move is simply the recent increase in purchasing power of the dollar. Might event be a bit more, because the rate was under 0.75. But, you get the idea, right? And the Euro is not the only currency involved.
Next, we will look at the outlook for the dollar. What do we see? Just a few weeks ago, there was a growing consensus that the dollar would tank. Today, we read headlines like "Dollar rally continue, yen rises, euro dips" and we think "Aha! A major change of emotions is going on - expectations have drifted.
Now suppose the emotional expectations have about as much weight as fact; call it 50-50 for simplicity. I'm sure that some professional economist would offer a much more complex way of looking at things than does the People's Economist, but just go with me on this. What if exchange rate changes were only half of the story, and emotions the other half? Is there anything in the headlines that would support the notion that the US is not headed for hell-in-a-hand-basket right now (or Monday morning) which might explain the exchange rate move? Of course!
Canada's National Post headlines "Canada, US jobs tally shocks economists" and over at CNN-Money we read the headline that as a result, "Investors [are] losing hope for a quick Fed rate cut." They meet by the way about month end.
There is, sadly, no hard and fast rule on what prices do, but my sense is that gold was a little ahead of itself at the $640 level, and should have been more like $635...there was too much bullishness. But with the recent exchange rate gamesmanship, accounting for $15.53 of the price change in gold (based 635), which would put gold at $619.47 on exchange rate only, and knocking another $15.53 off for the emotional aspect of pricing, I would pencil gold ought to be at $603.94 at the extreme of the short-term mood swing.. And that's close enough to the lows shown in the Kitco chart below, such that I'm not wringing my hands and all bound up in knots.
(This chart won't archive correctly, but it shows - when you read this is the future, that gold dropped on Jan 5-07 to about $602 momentarily and closed the session at $605.10 by Kitco's reckoning. Close to where it oughta be.)
Like I say, prices are always a mix of facts (forex rates, for example are a fact) and emotions. In trying to understand or just to throw a dart at a situation, a mix of half monkey-mind-madness (emotions) and facts (those pesky inconvenient things!) might put you in the ballpark.
When I read headlines that "Gold plunges 3% as funds sell" I simply look at the changing expectations and facts surrounding the dollar/exchange rates and think to myself "So what? Am I planning to sell today? Do I need to raise paper right now? Not no, but Hell No!"
Go look at this long term picture of things (which I recommended earlier this week) and tell me why I should even consider selling. This is not financial advice, simply my "common sense" way of looking at things for the moment and as always, subject to change without notice.
Harsh, but not bad
Speaking of the Charleston Voice, who spied the above very useful long term chart, he's come up with another classic for us. It looks like an ad that may have come out of a newspaper in Oregon.
"PUBLIC FORUM

Don't Help people Sit on their rears

I have a question, not only for Douglas County (Oregon), but for the entire state of Oregon.

Like a lot of folks in this state, I have a job. I work, they pay men, I pay my taxes, and the government distributes my taxes as they see fit.

In order for me to get that pay-check, I am required to pass a random urine test, which I have no problem with.

What I do have a problem with is the distribution of my taxes to people who don't have to pass a urine test. Should one have to pass a urine test to get a welfare check, because I have top pass one to go earn it for them?

Please understand, I have northing against helping people get back on their feet. I do, on the other hand, have a problem with helping someone sit on their butt. Could you image how much money the state would save if people had to pass a urine test to get a public assistance check?

---Leonard Wilson, Riddle, Oregon."
Hmmm. Rules like that and one of two things could happen. Either the cost of welfare would go down dramatically, or government would stop trying to legislate what goes on inside your personal skin.. When government regulates that, provided you're not harming anyone else, they own you -plain as that. Hate to break it to you - you're chattel. But a novel enough thought about pee tests to pass on for pondering, huh?
India Prequel?
India's northeastern Assam state is boiling - and rebels there have killed 32. But it may be worse, as latest reports have the death toll drifint upward - as high as 42 (Canadian Press). This is a battle that has claimed 20,000 lives since 1979.
India's National Games are due to be held in Assam in February. With tensions escalating, that might be a sporting event to be missed. We'll keep an eye on India's internal struggles...
---
As the rebellion/revolution meme continues working its way through the mindset of the planet, we note that a bombing in Sri Lanka has killed 15. In the Middle East, turmoil in the Gaza Strip continues. And five members of the Somali parliament have been nabbed in Kenya, suspected of supporting Islamist fighters. And where there's fighting, there's al Qaida, trying to throw gasoline on the fire.
Same-o Same-o
Oh yeah, we knew this was coming. A good investigative report by (MS)NBC hints that although the democorps talked a good game going into their majority role, the reality may be "So much for congressional lobby reform?".
Quick. Act surprised! You didn't think just regular folks could out-lobby the check-dealing corporate vote-slingers did you? Hahaha, in my best Mogambo Guru imitation laugh. What planet did you say you were from?
Governator's New Politik
As Governor Schwarzenegger was sworn in this week, we notice that he's talking about a "nonpartisan path for his new term." Does this mean party-switch? Good-bye to old ideals? Or, does the governator simply see the winds of change are now blowing against his former pals?
Letter of the Week
Just in from a reader...
"I am a relatively new Subscriber (Since September) and live halfway around the world from you (India). Urban Survival, Peopleonomics, and now Mogambo Guru are perhaps the best things that can happen to anyone at any time.. Honestly.

I some times wonder - Your country has already spent over 300 Billion on a war and still spending. No war is ever won, ultimately both sides lose, An eye for an eye can only make the whole world blind.. If only 300 billion dollars were spent by the US Govt. on Research and development of new technologies to replace dependance on Mideast oil - today The US could still be a world leader and selling the IP to the entire world. In fact 300 billion can bring a transformational change to so many things that ail the US - public healthcare in particular... I wonder what the people of the US think of this and why they do not strive to make their Govt. spend on these.. The war would be won automatically, without a drop of blood shed.

Keep up the excellent work"
As they say in the Japanese Samurai films: "Hai - as you see Gozo..." the problem is corporate economics instead of peoplenomics. Just this morning, we've reviewed how campaign reform is toast, and politicians are blowing around in the wind, depending on the latest voting results. As long as corporations can buy/bribe/control government, just regular people have been shoved into the back of the bus.
If we had meaningful campaign contribution laws that required Big Media that uses public spectrum (radio, teevee and internet) for profit, pay for political advertising as part of their compensation to the public for the use of spectrum, we would live in a different world.
But, the FCC caters to corporate interests. So whether it's pandering to corporatists who are pushing a spectrum wrecking technology like Broadcast Over Powerlines (BPL) which has been laughed out of more technologically serious countries [like Japan], or whether it's gutting local news and public affairs requirements for radio stations to maintain their licenses (let alone demanding locally originated content). The public has gotten screwed, although it's been slow enough screwing that most folks don't pay attention beyond an occasional "What was that burning sensation?"
Media is however, how we see ourselves - it's the Big Mirror - and it's owned by corporate interest that pretend to know what's best for us humans. That's rich, huh? They elect through their checkbooks the people that rule the rest of us who aren't as greedy or egotistical to screw as many folks on the way to the top.
That global battle for the future is not right versus left, white versus black, or even Christians versus Muslims, despite what you see in the headlines. It's the slow-to-dawn realization that corporate interests have raped the people and pillaged the planet - pushing us all past sustainability and in turn, over the abyss into chaos and toward a serious die-off of humans.
The most dangerous and revolutionary thing you can do is refuse to play the corporatist/bankster game. Don't take sides on put-up "news" events. Look behind the curtain. There's a bigger picture. Remember that "sensation"?
Don't go into debt for things of declining value - that just feeds the banker leeches. Don't trust in paper, hold hard assets instead. Voluntarily reduce your consumption pattern. Drive an older car, live in cheaper digs, eat better healthier food, read more books, watch less TV. Remember who brought you an earlier life of high transfats? Wasn't the farmers, was it? Nope. Go read the "Oiling of America" if you haven't already.
Corporate hypnosis embodied in the "more is always better" "eat like a man" mantra used to be a fine way to live when resources were plentiful. But times have changed, resources are leaving, carbon dioxide is up, and the outlook past 2050 is pretty grim. Oh, and even 2012 is looking dicey. Why?
Not to douse your weekend morning, but the Earth Policy Institute says ethanol will use more than twice as much corn as previously expected in 2008. We're seeing the emergence of a true battle of titanic proportions in a coming food versus fuel debate that will engulf the whole planet. At the very moment when we should all be working together to manage down population through attrition and developing cooperative socioeconomics, we're shoved into corporate profit-us maximus by the paper players.
There is a fine old saying that "The meek shall inherit the earth." Seems to me that now's a fine time to let the paper hangers have their last hurrah and buy things that matter - for cash. Meek is good and I think it has a pretty good future. I think I'll go clean my guns. We may be meek, but we ain't stoopid.
Peoplenomics: 2007: Befitting Irwin Allen?
While few people think about such things, as events seem only to intrude into most people's lives when CNN or Bloomberg runs a "Bulletin" crawler, it seems appropriate to at least consider some of the things ahead for 2007 if our read of future events is anywhere near correct. The reason for considering Irwin Allen is that although he died in 1991, he was widely acclaimed as the "Master of Disaster" and that might well turn out to be what 2007 is all about. So whether it's freak flooding with a breaking dam, a meltdown of the global financial markets, or even the outbreak of "limited" nuclear war in the Middle East, there may be some lessons to be learned - and costs to be considered - with a quickie review of past great disasters. I mean beyond the great disasters like "buy and hold", which as we demonstrate in this week's ChartPack (click here) would leave even Dow Average Bulls with a more than 9% loss in purchasing power, since the 2000 peak. I'm talking country shaking disasters of the mega size. Bigger than Towering Inferno, far Beyond the Poseidon Adventure, as markets head for their last Voyage to the Bottom of the Sea. 2007 could indeed be When Time Ran Out.
More for Subscribers Subscription Information
Read, Save
Check out our $10 ebook" How to Live on $10,000 a year or less..." At the Peoplenomics bookstore.
Help Your Friends
If you have some "true believer" friends who gobble up only mainstream media hype, you could click here (at least with Outlook) and tell them about this site.
---
Friday January 5, 2007
To Crash or Not to Crash...
Yep. That's the question, alright. And while there seem to be a zillion and one stories that scream for attention almost like some kind of log jam is starting to break up, we have to start with the Big Picture of the market first. For that, an email from Robin Landry (email: rlandry@charter.net, office 405-275-6162) is an ideal starting place because we're now at a critical inflection point:
"We are now at a point where CAUTION is warranted. On the attached chart I have outlined both my primary and alternate counts. My primary count has us ending a 3rd wave in a larger 5th wave. We are currently in a wave four correction which should find support in the 1350-1382 area on the S&P 500. A final 5th of the 5th wave rally would then take place before the market makes a major TOP and the downturn that makes the 2000-2002 decline pale in comparison begins. The alternate count says the rally from the low in 2002 has been an ABC which is ending NOW, thus CAUTION is extremely advised. If this decline breaks below the 1350 area in the S&P then the alarm bells will ring and the alternate count will become the primary. I will have to see how the wave count is developing to be sure, since the wave count itself is the most important thing I use in my analysis. The indicators I use to confirm the count reduces the number of errors and help me keep emotion out of my analysis, as much as humanly possible. If my primary count is correct and we resume the rally to new highs after this wave 4 correction, I will issue another update as to price and time targets when it is warranted. "
So it's against that background that we'll be watching the market, which looks negative by the futures as we hit the upload button.
Jobs Yawner
The jobs report came in hotter than expected...which is both a good thing and bad, as I will explain in a moment. First the gospel according to BLS:
Nonfarm employment increased by 167,000 in December, and the unemployment rate was unchanged at 4.5 percent, the Bureau of Labor Statistics of the U.S. Department of Labor reported today. Job gains occurred in several service- providing industries, including professional and business services, health care, and food services. Average hourly earnings rose by 8 cents, or 0.5 percent, in December.

Unemployment (Household Survey Data)

The number of unemployed persons (6.8 million) was about unchanged in December, and the unemployment rate held at 4.5 percent. Over the year, these measures declined from 7.3 million and 4.9 percent, respectively.
No change in the alternative measure of labor under-utilization, table A-12, U6, our engineers flipping burgers index, which was at 7.8% unchanged for the month. and the CES Birth-Death Model contributed 55,000 of the 167,000 jobs "created" during December.
Quite a few revisions this time, but here's my take on the jobs picture. First, manufacturing jobs dropped again in December. Government jobs went up. And when I look at claimed job growth, it doesn't seem like it's keeping up with the underlying growth in the labor force, a figure lots of fancy stats seems to whitewash:
BLS Claimed Job Growth
Labor Force
Revisions
Dec-05
108
150153
150153
Jan-06
193
150114
150114
Feb-06
243
150449
150449
Mar-06
211
150652
150652
Apr-06
138
150811
150811
May-06
75
150991
150991
Jun-06
121
151321
151321
Jul-06
113
151534
151534
Aug-06
128
151698
151698
Sep-06
51
151799
151799
Oct-06
92
151998
152052
Nov-06
132
152381
152449
Dec-06
167
152775
152775
1 YrTotal
1605
2622
2622
61%
But, to me, the figures seem to show that while the labor market was up 2.6 million, jobs fre only 1.6 million (leaving 39% of the new labor force without jobs), and while this is going on, miraculously, there's no change in the jobless rate. My head hurts. I wonder if the Mogambo Guru (the angriest man in economics) sells bunker plans?
The problem with the strong jobs number and cheap oil is it means the Fed can - and likely will - skip any more cuts and might even have room to raise at their next meeting. ARM'ed (as in adjustable rate mortgages) and dangerous times we're in.. And Gold getting whacked? Just means bad trade numbers next week, I'd wager.
Retail Bummer
Christmas may have been green this year, but most of that green was from an unseasonably warm winter, not the ca-ching of cash registers say retailers.
Mail Snoops and more
A reader asks if I have read about the administration opening private make using the terrorism ploy:
Hey, George... you've probably seen this by now, but just in case, thought it was the sort of article that might merit a link. Bush now opening US mail...
Constitution? Whatz'zat? Another reader meantime spied this story in USA Today about new travel document requirements to get in - or out - of the country and asks "Does this mean we'll need a new "national ID" to leave and re-enter our country soon?"
Answer: No, not soon. Here Jan. 23. Unless, of course, you are an illegal immigrant which gets us to...
Bordering on Trouble
We read with interest reports that a US Border Patrol group was over run on the Mexico border this week. All this while republicorps seem determined to help their corporate pals get breaks and while democorps are still blinded by liberal nonsense.
---
It's not like we're the only country with immigration issues though. Folks in Great (or formerly great) Britain are also looking at the major underlying issue of whether immigration is profitable.
After I get done re-reading "End of the Line: The Rise and Coming Fall of the Global Corporation" I should be able to lay out for Peoplenomics subscribers how the growth/death curve of corporate globalism will work out in the decline phase.
Iraq Sequel, Iran Prequel
A reader of Iranian extraction offered an interesting email this week, suggesting that we're seeing the early demonization of Iran in much the same way we saw the demonization of Saddam Hussein prior to the Iraq war...
"My fellow Americans with all their sophistication, wealth, opulence, etc. think they know Iran so well and routinely stereotype, pass judgment and ridicule the people of Iran and its leadership. But in reality my dear Americans know so very little and understand so very little about Iran.

Right now the big lie that is being sold to the American people is that all Iranians hate their leaders and will rise up and overthrow the government subsequent to a U.S. attack. I do not believe this will be the case and in fact it may work just the opposite and may unite the people against the aggressors and place America between a rock a real hard place."
I offer this for your mulling because I seem to recall hyperbole prior to Iraq that people would rise up and support America because we're fighting for their freedom. Still waiting on that groundswell of support to develop...
Big Pictures
Several big picture items to stick away for pondering when you're stuck in traffic. Richard Maybury is, according to a couple of posts around the net, becoming more and more worried about Pakistan and their nukes.
---
ABC News is thinking another NK nuke test is in the works, too.
---
Chief Amazonian Jeff Bezos has his eyes on space with his Blue Origin project.
---
Want a long term view of how the banksters have robbed America's dollars of purchasing power? The "Charleston Voice" recommends click to a most revealing chart here.
My Pullets're...
...busy. Pleased to report that our Rhode Island Reds are now producing eggs like mad. I think we're technically protein self-sufficient now, with the eggs, broccoli and such. Huge taste (and I expect nutrition) difference between 5-minutes from the garden versus 3,000 mile immigrant veggies. The broccoli is a lot sweeter, for one thing. Doesn't have that picked-to-young bite.
---
Thursday, January 4, 2007
Watering Down Time
If you have been reading this site since, oh, about July of 2001, you have undoubtedly read some of the predictions - and subsequent fulfillment of predictions - made by the folks in the Northwest woods of www.halfpasthuman.com. Using only language shifts measured on the internet, with huge sampling of text (using the same techniques as search engine indexing spiders), and layers and gobs of predicate calculus and prolog, some of the predictions have been startling. I don't operate the system, I'm more like a Dr. Watson chronicling the adventures of Sherlock of Time and his sidekick Igor; or as I call 'em - the time monks - because we don't trade on what we could. It wouldn't be fair - sort of like 2-steps past insider trading.
Recall that I told you back in August I was going to be interviewed by a production company in Hollywood (Burbank is close enough) for a special that would air on the History Channel. When that happened - in mid-August, I made two pretty interesting predictions on camera. One was for a West Coast earthquake in October, and that in December there would be an "attack on Israel's water supply."
I don't pretend to have run out the math on getting both of these right, but these two (the only big predictions I made on camera, as I recall, but there may have been a few others), have come true with the Hawaii quake, right on schedule in mid-October. The "attack on Israel's water supply" however, is a very interesting one (again, made on camera four months in advance of events) as it points out one of the difficulties of "seeing" into the future using language shifts.
The problem is that we have a difficult time separating two major events which share similar linguistics when they happen very close to one another, at least with the current state of processing and availability of inputs.
We had a similar problem noted in August 2004 when we predicted a major earthquake, which would kill 300,000, drive a land back to a previous age, and would include visions of a courthouse/jail being abandoned during the quake. As you may remember, in September '04, we had the quake during the Peterson trial in Redwood City, CA, and we thought at the time "Gee, guess we were off on the 300,000 dead.." Sadly, we weren't. But the prediction fulfilling event - the Banda Aceh quake in December of that year - was somewhat masked - in linguistic terms - by the closer in (temporally to the August) prediction date event.
While the accuracy of the Hawaii/October quake is a pretty clear "hit", we ran into this "masking" effect again in December with the "attack on Israel" and "water supply" apparently relating to two separate, but parallel linguistic streams. One was the attack on Israel's heritage by Iran, with the attack on the Holocaust conference in mid-December, but the "water supply" issue is now also becoming obvious.
We've been reading that Palestinians are very concerned that Israel is polluting Palestinian water supplies, with a combination of things - depleted uranium and chemical weapons by one report. We have seen in the past few days the issue of "water supplies" cropping up too much for pure chance in news out of the Middle East. One Aljazeerah report headlines "Water has always been one of the most important motives driving Israeli strategy, an Arab League report". Another Aljazeerah piece claims that "Sewage from illegal Israeli settlement polluting northern West Bank". Curiously, that story has disappeared from the mainstream of the 'net, but can still be found in a Google cache here.
As always, we're not making any claims about our rickety time machine, but as the TV producer who did the August interview noted:
"Amazing hit -- and I always find it interesting when you put a metaphoric spin on a weird web-bot prediction ("Maybe the poisoned water supply prediction is about the 'source' of the Holocaust") and then it turns out to be completely literal, hard-core, on-the-nose accurate.

As for the 700,000 displaced [by flooding in 2007]... God, I hope that whole decimal thing kicks in this time... like about 3 or 4 decimal points. "
Yeah, well, let's talk about those 700, 000 - we might be off a decimal point, but the other way...that's a lot of folks to expect to be displaced by flooding this year but that's one way to read the outputs in modelspace. Makes a fine case for preparations, especially around the square states. This site is not about fear - and this isn't fear-mongering. It's about plan for the worst and hope for the best.
Just like the father leaned over in the movie "Mrs. Robinson" and whispered the tip "Plastics", my tip for you this year is "Floods." I know, I know, it's not mainstream. But hang around a while. A reader offers this:>
"Just a quick note. The Illinois river is flooding right now near Griggsville/Valley City IL. A wise older local man told me that this is a bad sign. http://www.crh.noaa.gov/ahps2/index.php?wfo=lsx&view=1,1,1,1,1,1 This is a flood stage site for the IL river area in question. Denny (the elderly river guy) said that this is never a good sign when the river is flooding at this time of year. I didn't have the heart to tell him that this may be just the beginning. "
And Steve Quayle was kind enough to share an email from one of his readers who's in the Nebraska area, hard hit by storms over the last week.
"I have been without power for 6 days now, with really no sure date as to when it will be on. I came to a small town near our farm (20 miles away) to a friends to do some laundry and get a shower before the next storm this weekend. The small towns mostly have electricity now. but the rural folk are being told 3 weeks to a month before you can look for electricity. Hall county (to the direct south of me) had over 600 electric poles broken in half. One guy on the radio KRVN said it looked like a bomb had hit! my electric co. said they had miles and miles of downed poles and lines, and that the grid went down, so they couldn't get any electricity to pass on even if the poles and lines were up. 35,000 people are still without electricity tonight.

We, thanks to the Grace of God, and your encouragement to be prepared, have been ready for such as this way in advance. we have 12v lights, a generator to pump water to our livestock and us, and wood heat and propane kitchen stove. We also have plenty of food for us and our livestock stored from our garden and meat we raise ourselves. I am amazed at how unprepared so many are. farmers around us don't even have generators to pump water for their livestock and go to the small towns... miles away, to get water to haul to the cows.... how stupid is that when you have over 100 head?

The small town grocery right after the storm had a head of lettuce for 1.79, the precut bag was 1.49, but today the precut bag was .88 on sale! is that gouging? When I called today to see when our juice would be back on I was told to go somewhere.... like to town... my neighbor was told to go get a generator. I think it is interesting as I think this storm was orchestrated. "
Remember that word "gouging" this family uses, because I'm expecting its second definition to come to the fore here shortly. Not just the prices and gouging, but the actual physical gouging which may be yet to come. We'll see, but for now, my tip to you is this: "Floods." Folks in Washington State are still dealing with them, and in the Midwest, there could be a lot coming.
Oh, and then there's the scientific community saying 2007 will be the warmest year yet in human-recorded history. Hmmm...another reason for flooding, I expect.
Time will tell, don't it?
The Balancing Senate
We read that Senator Tim Johnson, democrat from South Dakota is still hospitalized. While we wish him a speedy recovery, we note that republicorps have essentially majority control of the Senate during his absence. With Johnson out of the way, we expect the "protect our troops" mantra to play well in the Senate when the Bush Surge Plan is unveiled. Not so well in the House, but who's going to listen? Expect massive troop the massive troop build up this spring and things going to you-know-where-in a hand basket by mid March.
Thailand Tense
The army-backed Prime Minister of Thailand says the country could have more bombings on the way. On the other hand, our correspondent "The Wandering Texan" reports from the wilder side of Bangkok that there are lots of other dangers, and that things in country are pretty normal yet.
---
Speaking of places to carry your wallet in your socks, check out the crime wave in Rio de Janeiro.
$1/2 Billion Bust
A good Samaritan act by a couple of police officers in Australia has led to a $1/2 billion drug bust. Ah, what is it they say? "There's a big difference between ecstasy and happiness?"
Sailing Story
Hoist a grog to Michael Perham - age 14, so no grog for him - but he has solo sailed the Atlantic. Now there's a role model for young people!
---
Wednesday, January 3, 2007
What's Changed?
It seems that as the new Congress gets own to work, not much will be changing, especially as it related to the economically important prosecution of the Iraq War. Oh sure, there's talk of how it will work, but in the end, I expect that corporate interests will prevail, the neocons will trot out the old "hide behind the troops" mantra ("If you don't support us, you're against our troops...") kinds of arguments, and in the end, by the middle of March, we should be seeing the first of the troop surge arrive in Iraq in time for full scale civil war. Reports that Bush will fire the top US commander in Iraq seems to us like the blame game.
What's interesting to watch are two factors - seemingly almost in a race. On the one hand, we see the Pentagon is redefining the term "emergency" in order to be able to take money from one pocket (robbing Peter/routine projects) to spend on the other pocket (to pay Paul/Iraq). On the other hand, we notice that 12,000 civilians were killed in the fighting last year - and more important if you are drawing trend lines, almost 2,000 were killed in December alone.
In the very short term, until the president puts his "surge plan" on the table (with most betting on 30,000 more troops in the region of Iraq), we expect politics in Washington to be pretty much unchanged. Not that it's what the voters expected, but it seems the likely outcome in the corporate duopoly. Admittedly, Democrats/democorps have promised a big 100-hour performance, but we'll just watch. None of the problems seem especially simple, nor answers obvious.
---
OOPS! Check out the "Terror Error" story in this morning's NY Post. Yes, "Obama" really is spelled differently than "Osama". Maybe the folks at Chyron could come up with a foolproof context checker? (For the uninitiated, Chyron makes great TV character generators for headlines and crawlers..)
Economic Drivers
With no economic news out (at press time there are stats pending) the dollar was jammed up overseas, which had predictable outcome of appearing to make oil fall. While it seems to be falling, the fact is that oil has a sort of intrinsic value. When folks see the price of oil bouncing around, it's only the exceptional investor that looks at oil and says "Hmmm...the value of the money/medium of exchange may be flopping around a bit underlying it all..."
Sure enough, as we look at news about gold this morning, we see that gold is falling - the reciprocal of the dollar jam-up. Once again, the exceptional investor is thinking "Hmmm...the value of the paper has changed a bit this morning - a tad higher. Does this reverse the long term trend of falling paper purchasing power?" Not hardly, methinks. So what matters? I mean really matters?
Friday we get employment numbers and then CPI figures at mid month - the more important numbers. Wall Street seems to glom on to minutia though, and run with it. Reconstructed M3, a sort of Holy Grail and indicator of how fast the digidollars are being cloned? Perish the thought! Hide that number. Oh, already done? back last March by the Fed? Whew!
Caviar Dreams
If you like overly salty fish eggs, pay attention here. Caspian caviar export quotas have been set, but as one headline puts it, Beluga is in Limbo. Crackers?
Tech Notes
A bunch of interesting little items. Avis is planning to do a 3G bridge to 802.11 to give business travelers mobile hot spots ala road. Which reminds me, Elaine has pointed out a new left-hand only keyboard - designed for people to text with called a Frog Pad. Wonder if Avis has thought about that add-on? People could then at least keep one hand on the wheel, until the phone rings...
Apparently these Frog Pads come in right and left hand versions, so it could be installed on the car console. Yeah...and with voice to text on, I could see myself texting down the freeway of life. Still, Amazon's $142 Frog Pad price point (with Blue Tooth) has me wondering where's the efficiency in a half speed, half sized keyboard, when I have Dragon Speaking 9 at the same price point? Pick your peccadillo: pontification or ponderously pecking, please.
---
Mac users are having a "Month of Apple Bugs" and first out of the chute is a QuickTime exploit says Macworld.
---
PC World has a quick fix for a reported Gmail flaw.
Are you a Hamster?
LiveScience says a brain hormone in hamsters has been linked to something we might delicately call "seasonal sex." All this time, I thought it was reruns and headaches. (Here's the bad pun...) Next time your not in the mood say: "Oh rats!"
Horse Lover?
Ford has a four-door version of the Mustang in the works. The chopped roofline is Magnum-esque to me. Going after dodgy buyers, or just trying to recapture the 1950 Merc's slick look?
Spend it now
We notice there's more coverage of the breaking up of Arctic ice, in the past day. Spend till the water rises? Buy low lying real estate bargains? Have at it...
UFO Investment Question - II
I have so many responses to the UFO Investment question of yesterday that I will likely have to spend several hours on putting it all into coherent form. A tight two paragraphs tomorrow I expect, but the longer analysis (and it is interesting - for Peoplenomics subscribers this weekend.
Mogambo Day
Wednesday being "Adventure Day" the new Issue of the Mogambo Guru should be up about 8:09 Central here.
---
The UFO Investment Question
I know, I know, you'd rather I stick to the Cost of Living stories - but that has been delayed by the mourning for former President Ford - which we'll get to in a minute. But, as long as this is a sort of "half work day" as Americans of the governmental stripe take a four-day weekend, let's warm up the coffee and heart rate with some discussion of the "unthinkable". We'll start with this email:
"Thanks for your urbansurvival site. Recently I wondered if the web bot project, which is really interesting, does mention anything about contact of mankind with aliens? Maybe this would scare many people, but I would consider it an interesting chance. If aliens were really hostile we would be enslaved long ago. Maybe you can send me one or two lines regarding that, or do a little post on your urbansurvival site (but like I said, maybe it would scare people too much)."
People by the millions (worldwide) claim to have seen UFO's over the past thousand years, and there are some folks who read descriptions in Ezekiel as being what non-flying humans might have used within their limited linguistics to try and say "UFO." But, while that's a long stretch even around here, what's not a stretch is that UFO's seem to be on the upswing again.
Take for example this report in the Chicago Trib yesterday (complete with a video link) that describes a UFO sighting over O'Hare on November 7, 2006. A little cold water: The FAA seems skeptical. But then again, what would you expect them to say? "We saw something, it was in the sky, and not under our control...?" That wouldn't play well with the traveling public, for sure.
What's curious - as a friend pointed out in sending me the above link - is that the event happened in November and didn't appear in mainstream media until almost two months later.
What we do know for sure of the phenomena is this: Not much.
While government hasn't done much, other than the half-hearted attempts to calm the public with its Project Blue Book, there are plenty around the internet who speculate that governments already have cut some kind of deal with off-planet "somethings" since the Roswell Incident in July of 1947. The folks who claim there's nothing to UFO's tend to dismiss reports from highly credible witnesses, such as former President Carter's sighting in October of 1969 near Leary Georgia. It's an interesting read, and depending on your politics, a very credible witness.
Almost all of the investigations and sighting reports have been collected by groups like the Mutual UFO Network (MUFON) and the National Investigations Committee on Aerial Phenomena (NICAP).
A seemingly parallel phenomena is reported UFO abductions. One of the most famous of this genre of report dates back to 1961 and the abduction experiences of Betty and Barny Hill. Again, as in the case of getting to the bottom of sightings, there's no public evidence of serious work by government in this regard, so responsible publicly funded/supported efforts, such as those of the International Center for Abduction Research (ICAR) are leading the way.
One other track the story takes is off in the direction of cattle mutilations. While the abduction reports involve what are described generally as painful (without anesthetic) medical probings (and sexual sampling), the critters involved in the rash of cattle and animal mutilations are less lucky. They end up dead with body parts missing..
Just as MUFON/NICAP have been leading the way in collection of sightings, and ICAR on the abduction phenomena, the folks doing the serious science on cattle mutilation includes the National Institute for Discovery Science (NIDSCI). Their report on the death of three cows and a bull in Nebraska (2003) is a little grisly, but it's worth seeing how thorough the research is. Linda Moulton Howe's latest reports on the subject seem to indicate that cattle are taken, then dropped back to earth - which is why there are no footprints and why some cattle mutilations seem to indicate carcasses being dropped from some height.
The off-planet somethings are usually referred to as extraterrestrial biological entities, but even the designation of EBE's assumes that they are not some trans-dimensional form that is biological in nature. If you had a silicon based life-form, rather than our carbon-based, for example, would that still be biological? I'd argue moving geological, but that'd be a two-drink discussion some day.
---
My personal speculation, given the available data on this continuum of interaction between earth critters with the off-planet types, is that from the perspective of higher creatures (more developed in some respects), humans may be somewhere around Neanderthal status. And, just as we might inspect members of the ape family with some interest and return them to the lab setting, when it comes to rodents, researchers don't seem to mind killing and dropping the body parts in the trash. Thus, whatever is behind UFO's seems to have a pseudo-scientific interest in humans, not interest in anesthetic and why cattle and other critters would be simply dropped back into the wild for nature to dispose of..
----
Leaving the overview now, we can move on to what's ahead.
We find reports today in various world media that France has plans to make its entire archive of UFO sightings publicly available this year. The online database of 1,600 sighting is expected to be up and running before the end of February.
If you want to see a UFO, some of the hot spots worldwide include Brazil, Mexico, and there's even a hot spot in North-Central Montana where reportedly US military missile crews saw real enough looking UFO's in March of 1967 - and it's still being talked about in Great Falls, Montana in the past week...some thirty years later.
It's here that we should probably stop, although the field is interesting as all get-out, and ask "Is there an investment angle to all of this?"
Ah, indeed, there is. If you like reading about UFO's here's the mission statement/ homework assignment of a lifetime: Figure out what is alien wampum/cash or items of value. That would be their "currency." If they even bother with such a thing. Then buy that whatever-it-is in some quantity.
Just as a guess, I would have to speculate that a real widespread arrival of UFO's would be extremely damaging to global economies. Think back to what happened when Christopher Columbus arrived on our shores 515 years ago. What would he have thought had the natives presented him with a pile of derivatives instead of things like tobacco and spices? Arriving from elsewhere/else-dimension, the question is do they want anything at all or are we just a lab rat type curiosity?
If you come up with a really sound - well reasoned and substantially documented - ideas in answer to the question "What are the economic or monetizable interests of UFO's?" Please send them along, and I'd be pleased to share them. If we're just lab rats, and the off-planet somethings stay off in the background, then fine, life goes on. But, if they suddenly forget about their Star Trek-like version of the "Prime Directive" (not to interfere in planetary operations) then we could be in a world of hurt. I'd want to have some of whatever it is they need/want/seek stashed somewhere as a bargaining chip - if they're even interested in a little old-fashioned trading..
Contrast
Former President Gerald R. Ford will be laid to rest today. Elaine said she was struck by the difference in tone between the James Brown viewing and the Ford viewing as carried by the news channels.
Urge to Surge, II
The British press reports a "rising opposition to US troop increase" (s) in Iraq, as George Bush tries to figure a way out of this box canyon we're in as a country.
---
A small plane that strayed into Texas White House airspace was forced by jets to land for a little talking to...
Stormin'
The blizzard that hit Colorado hit the Midwest hard.
Inside Trouble
800 inmates reported to have rioted Saturday and more than two dozen were injured in the fighting. Nope, don't ever want to spend time in one of those places.
Dollar Diving
As we hit press time this morning, we see the dollar is dropping quickly and gold surging. Want to bet on $1,000 by the end of the month?
---
Monday January 1, 2007
The Year Ahead
We begin this year observing tomorrow the passing of former President Gerald Ford. What's interesting about this is how the rest of the world is viewing our behaviors as a nation - at this supposed time of mourning.
In Thailand, the New Year begins with a series of bombings that have killed several people. We'll be watching that as there is already a Canadian travel warning out about going to Thailand, and a warning from our State Department would not come as a surprise, either, although US travelers are already being told to exercise a lot of caution there. The recent market/currency changes have no doubt fueled internal issues.
the year may also be starting with an airliner down - a plane in Indonesia has lost contact. It had 96 passengers aboard according to first reports. In that part of the world, especially when the plane is a 737-400 which has a great safety record, one tends to jump to the worst [terrorism] as a first thought.
Although reports coming out of Somalia seem to indicate that government (and Ethiopian) backed forces have regained control of a port city, driving Islamists out - for now - we have to wonder if they will keep trying. Seems likely that the fighting in Somalia is far from over.
Court Wants Dough
We notice the Washington Post reports this morning that the Supreme Court justices are talking about a pay increase. Say, not to be the wet dis rag, or anything, but weren't we just reporting stories a few weeks ago about how the Court's workload had become much lighter and they were hearing fewer cases? I know, no one is going to listen to my simple plan: Put them on a 4-day work week and keep pay where it is, if the workload is going down. Let them spend more time playing golf - and for one, more time hunting with Dick Cheney.
Urge to Surge
As US military deaths in Iraq passed the 3,000 mark on the last day of the year, we expect George Bush will continue pondering how to handle the surge of troops which is universally expected - and widely opposed - in Iraq this spring.
The Washington Post doesn't call it the modern cowboy equivalent of riding into a box canyon (remember those from old TV Westerns?), but they are clearly pointing out the choices keep getting tougher. Sounds like a box canyon to us. And, as the Australian paper the Age headlines today "Hanging one man won't fix the mess."
Hell of a time to figure that out.
2007 Business Outlook: What Goes Up...
As I pointed out in the last column of 2006, precious metals kicked paper assets six ways to Sunday, but there's been darn little mention of that inconvenient little reality in the mainstream yet.
But when I read stories about increases being reported in the retail business, like this good Bloomberg report, I sit back and ask myself "hmmm...how real are the increases of 1-4 percent when you back out inflation's impacts? I mean it should be obvious - and be asked by great financial reporters - if sales go up 5% in a 5% inflationary economy, was there any gain?
Sort of like "If a tree falls in the woods, and there's no one there to hear it, did it make any noise?" My Zen-like approach to investing makes me stick to the observables and shun the hype. We don't anticipate any moves with our portfolio until we get to $1,500 - in February perhaps.
Short term, I would expect the first couple of weeks of the New Year to be soft in the paper markets so that fund managers can drive down prices, scoop up "bargains" on the expectations of having more paper profits to report at year end. But I'm still betting on metals and income producing real estate.
---
A somewhat abbreviated report this morning so I can get back to work on my new office - sanding walls - and also play with the new milling machine a bit in the shop. Enjoy the football games and let's see how things look before the open on Tuesday.
---
News from Elliott Wave International
Chart of the Week!
Instead of our customary chart, this week you get a free peak at one of our other charts from www.peoplenomics.com - this is our "Global Markets Equally Weighted" chart:
Write when you get rich,
George Ure, The People's Economist